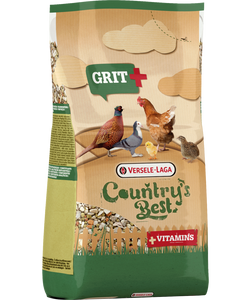 Versele-Laga Grit Plus is recommended for supplementing all poultry, chicks, chickens, pheasants, duck, quail, geese, gamebird and the likes.
Founded in 1932, Versele-Laga is one of the top most established brands, with a strong reputation in bird feeds. European show breeders recommend Versele-Laga's feed and food for all poultry.
Key Information:
Specially imported from Belgium
Country's Best GRIT+ is grit especially formulated for gallinaceous birds with flint oyster shells, seashells, redstone and vitamin pellets.
GRIT+ does not only promote your poultry's digestion, it also has a positive effect on the skeleton and the formation of the eggshell.
Enriched with extra vitamins and trace elements for an optimal health and condition.
Comes in 1.5KG bags
Composition: 
Marine shells, Flint, Redstone, Oyster shells, Maize, Wheat, Maize bran, Wheat bran, Charcoal, Spelt bran, Sunflower seed feed, Alfalfa protein concentrate, Palm oil, Bentonite, Calcium carbonate, Herbs, Sodium chloride
Analytical constituents: 
Crude protein 1.0%, Crude fat 0.5%, Crude ash 89.5%, Crude fibre 0.5%, Methionine 0.02%, Lysine 0.04%, Phosphorus 0.06%, Calcium 18%, Sodium 0.20%
Additives/kg:
Nutritional additives
3a672a Vitamin A 7600 IU, 3a671 Vitamin D3 1900 IU, 3a700 Vitamine E (all-rac-alpha-tocopheryl acetate) 23 mg, 3b103 Iron (Ferrous sulphate, monohydrate) 23 mg, 3b202 Iodine (Calcium iodate, anhydrous) 1.5 mg, 3b405 Copper (Cupric sulphate, pentahydrate) 7 mg, 3b502 Manganese (Manganous oxide) 57 mg, 3b603 Zinc (Zinc oxide) 53 mg, E8 Selenium (Sodium selenite) 0.2 mg
Technological Additives
E284 Ammoniumpropionat 228 mg | E321 BHT 60 mg
Directions for use:
Period: For all poultry throughout their lifespan for digestion and egg-laying

Provide in a separate bowl or mixed into the feed

Provide food and fresh water always.
Tips:
Always provide Grit for an easy digestion. Grit also has a positive effect on the skeleton, egg laying and reduces chances of indigestion and pasty butt. 
We recommend Grit Plus for chicks particularly due to finer size. Teurlings Grit works as a more affordable option for adults.