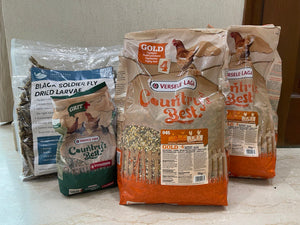 Our bundles are a great way to kickstart your journey into chicken keeping!
Save more and worry less on missing out for anything your chicken needs!
Small Flock Bundle is ideal for a small flock (1-5 chickens) 
It should be sufficient for 1-2 months usage, or more depending on number of chickens and breed. 
This is basically the essentials, and our way of making sure our silkies are extra fluffy, happy and well!
(Text me your choices, or i'll mix and match for you! Subject to availability of various options) 
Our Clucking Good Layer Bundle includes: 
Bedding (Optional! Choose with Shavings to add it on):

Blue Frog Wood Shavings (WORTH $52)
Adult Layer Feed (2 Bags) (Worth $26.50 each) (Main diet!)
Versele-Laga Mini Grain Mix x 2
Treats: For bonding and supplement of protein, up to 10% of diet.
Dried BSFL (black soldier fly larvae) 1.5KG $38.80