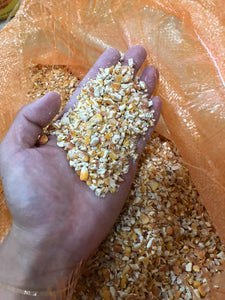 Quality Premium Australian Corn.
Note: Corn is NOT a complete feed, recommended only for up to 10-15% of diet as variety.
20KG may not have stock onhand all the time so there may be a week's waiting time
Key Information:
Cracked and Broken nicely for all birds to consume

Better nutritional density corn variant.

Minimal powder and residue

Great feed to gain weight and meet energy needs for a healthy and active bird

Highly recommended for chickens and poultry!

Country Of Origin: Australia
Tips:
Always provide

 

Grit

 

for an easy digestion. Grit also has a positive effect on the skeleton, egg laying and reduces chances of indigestion and pasty butt. 
Always make sure there is plenty of clean drinking water.