Media Feature on CNA Digital (29 October 2022)
Check out our feature on CNA Digital: All content from CNA Digital and all credits goes to them. Authored by Matthew Mohan, CNA. Link here:
As wild chicken sightings continue to be regularly reported across Singapore, CNA looks at the dynamic between humans and these birds.


SINGAPORE: When he returns home from work in the evenings, filmmaker Jun Chong keeps a keen eye out for some of his "neighbours".
But he doesn't run into them along the corridor of his Sin Ming Housing Board (HDB) flat. Instead, they are usually camped by the side of the main road – colourful, feathered, and sometimes crowing.
"If I alight from the bus after a day's work and I don't see my chickens or if I don't hear the crowing, then I'll be more worried," Mr Chong told CNA.
The chickens are a common sight in Mr Chong's estate and have been for years.
"I've been staying in my estate ... for basically my entire life. I remember very fondly when I was very young there were already chickens," he recalled.
"(They were) definitely a big part (of my childhood). Sometimes I would think that there are no chickens in my estate, maybe I wouldn't feel that big of an attachment to them."
But chickens are not unique to Sin Ming. In recent times, there have been reports of sightings of the birds all across various housing estates in Singapore.
Since 2020, the National Parks Board (NParks) has received more than 1,000 reports annually about free-ranging chickens, said Ms Jessica Kwok, group director of NParks' Animal and Veterinary Service (AVS).
Animal Concerns Research and Education Society's (ACRES) co-chief executive Anbarasi Boopal told CNA that the animal welfare group has seen an increase in feedback related to the chickens. There were nine reports in 2019 as compared to 18 reports last year and 14 reports in 2022 so far, she said. 
Feedback came from locations "more or less" all over Singapore, such as Marine Parade, Pasir Ris, and Ang Mo Kio, said Ms Anbarasi.
MANAGING THE POPULATION
The issue of wild chickens came to the fore in 2017, when the Agri-Food and Veterinary Authority of Singapore (AVA) revealed that it put down 24 chickens that were wandering around Thomson View and Blocks 452 to 454 Sin Ming Avenue. There were about 20 complaints from residents there, mainly about noise.
The incident sparked an outcry. AVA later clarified that it was not because of complaints of noise, but the risk of exposure to bird flu that prompted them to cull the chickens in areas where there are "relatively high numbers" of them.
Since then, a task force has been set up to deal with the chicken population at Sin Ming.
One of the main issues that some have with the birds is noise, said Mr Goh Sim Cik, who is the task force's chairman.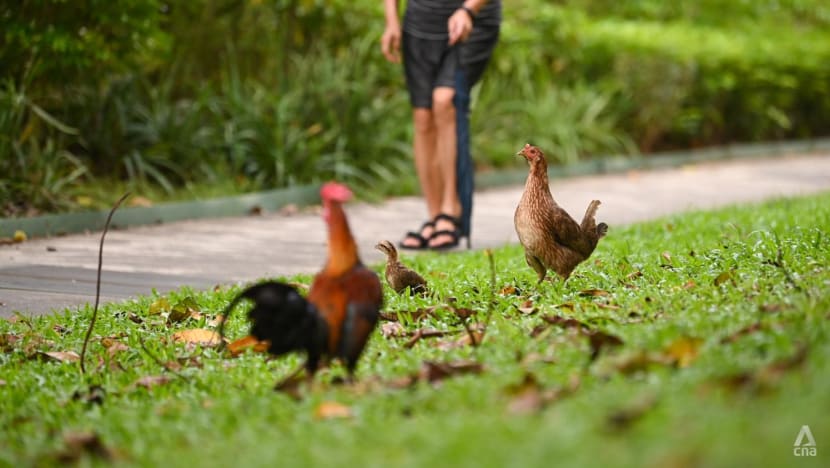 Speaking to CNA, he noted that there have been at least two residents who have forked out money to soundproof their home windows.
"It's always a bell curve – there is this majority of people who really don't care ... they are affected but they can deal with it and can accept it. And then there's a small spectrum that really loves the chickens so much that they are so sad when we remove them. Then there's the other opposite, which is: 'I want to have no chickens around in the neighbourhood at all'," he said.
Another issue is the population of the chickens, he added, with some reporting flocks of up to 30 at a time.
Among other measures, the task force has tried to educate residents on the feeding of chickens. It has also started egg collections, installed nets, and pruned some trees so that chickens will not roost.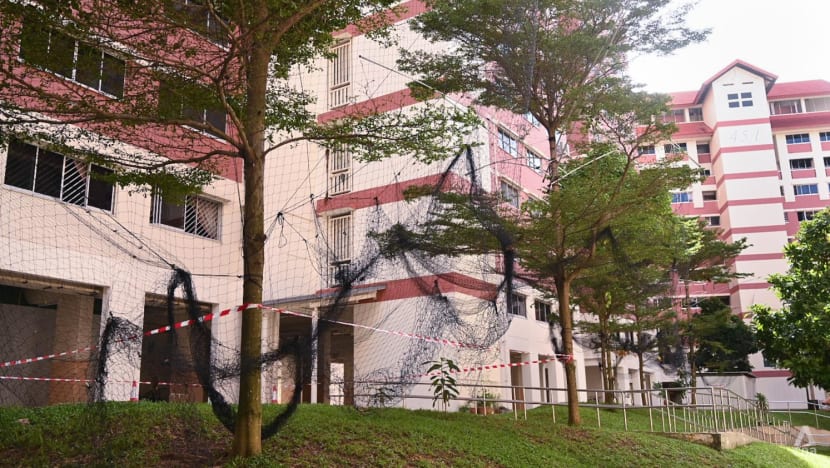 While there were about 99 chickens in the estate in December 2021, a census of the chickens in May this year put the numbers at about 66.
Twenty roosters were relocated to farms or willing hosts in August and September. Mr Goh estimated the current total to stand at about 50.
When CNA visited the estate on Thursday (Oct 27) evening, the occasional sound of roosters crowing was audible and the birds could be easily spotted, mostly in grass patches across the estate.
"We don't find them a nuisance," said housewife Eline Peh, who moved into the area late last year. "In fact, we will miss them if they are gone."
"They will only make noise at certain times (of the day), otherwise it is okay," said another resident who only wanted to be known as Mrs Lee.
Having lived in the estate for about 30 years, she said she had "no issues" with the chickens.
Ms Kwok explained that NParks takes a "science-based approach" towards the management of animals, including free-roaming chickens. 
"This requires an approach incorporating studies on understanding the population ecology of the birds, such as roosting and movement patterns; risk that these animals might pose to public health and safety through the diseases they may carry; and measures, such as removal of food sources made available by humans, educating the public on not releasing or feeding free-ranging chickens, habitat modification and population control," said Ms Kwok.
"There is no single management approach that will suit all issues related to free-ranging chickens."
Ms Kwok added that NParks also provides advice and supports town councils that receive feedback regarding wild chickens at HDB estates. 
This includes engaging residents to advise them against feeding the birds and sharing possible mitigation methods to manage the disamenities of the chickens, such as removing eggs and modifying the landscape to reduce roosting sites.
NOT ALL THE SAME
At the same time, not all wild birds are alike.
Often confused for wild chickens, native red junglefowl can also be spotted throughout Singapore even though they were rare a decade or so ago.
While they may look similar to chickens, they have a number of characteristics that set them apart, said Dr Yong Ding Li, the regional coordinator for migratory bird conservation and an ornithologist at BirdLife International.
These junglefowl have grey legs, unlike domestic chickens which generally have yellow legs. They also have a shorter and more abrupt call and a white tuft of feathers on their rump. However, many hybrids exist and it can be hard to tell them apart.
"It's very common that junglefowl come into contact with these farm chickens and they hybridise on and off, on and off, so the genes of these junglefowl and chicken have been mixing," he said.
Junglefowl have become increasingly common over the last few decades as they have "colonised" more habitats across the island, added Dr Yong.
In the early 2000s, red junglefowl were mostly found in the Western Catchment Area and Pulau Ubin, but they can now be spotted in many urban areas and most nature reserves, he added.
"The first places where they were found 20 years ago were not in the heart of Singapore, but in the borderlands, in (Pulau) Ubin and in the Western Catchment. And then of course, from there they have spread," he explained.
"There are not many predators in urban Singapore, they can do pretty well. There will be an odd python in Singapore or the odd civet cat, but otherwise, there's a lot of space for them. Because there are no other wild pheasants in the country, so they can easily colonise all these habitats."
FEEDING JUNK FOOD
Those who CNA spoke to said that feeding of free-roaming chickens continues to happen regularly.
Rampant feeding can lead to the population of these birds growing rapidly, said ACRES' Ms Anbarasi, who recalled how she had seen bowls of rice left for the birds at a housing estate.
"(Currently) the chickens will be able to survive, but their population will not explode. Now with the additional artificial sources of food, then the breeding and the survival rate actually increases ... Food provision is really a big root cause for many of the human-animal conflict situations," she said.
It is logical that feeding leads to a bigger population of junglefowl, said Dr Yong.
"In natural conditions where food can be scarce, some chickens will not make it to adulthood. But if you feed them and you feed them regularly, then the junglefowl or the domestic or the feral chickens, they will have a reliable source of food," he said.
"Reproductive rates increase and then there'll be more of them around. It's a very logical flow, more feeding equals more junglefowl in the long run."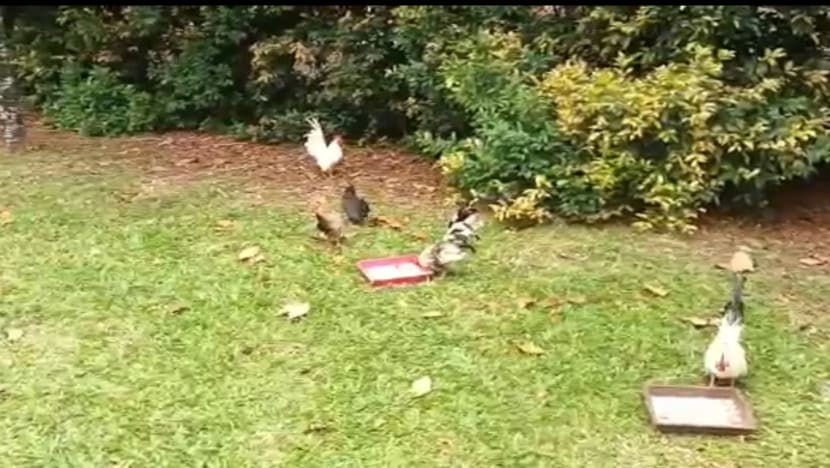 Mr Noel Tan, who runs a chicken rehoming group on Facebook, said that much of what is fed to wild chickens is "junk food" and not ideal for their nutrition. As with any wild animal, feeding should be discouraged, he said.
"Nutritionally speaking, it's not very good for them - it's like say, bread, right? It can be hard to digest for them. Indigestion can cause them to die," said Mr Tan.
"A chicken can produce eggs every day, which are high in protein. Where are they going to get the protein from if their diet has only carbohydrates? So nutritional needs are very important, especially for chickens because they produce eggs regularly."
NParks advises members of the public not to feed wild chickens as it leads to overpopulation.
"The feeding of all animals, including chickens, is prohibited in NParks-managed green spaces. Free-ranging chickens are capable of sourcing food in their habitat and do not require food from humans to survive," Ms Kwok added.
"Leftover food from feeding may attract other pests, like rats, that carry diseases and pose a risk to public health. The public can help to mitigate population growth and congregation issues by not feeding the birds and disposing of food scraps properly."
Mr Chong said people continue to feed the wild chickens in Sin Ming. This has altered the birds' behaviour, he added.
"One of the big problems is that ... a lot of residents actually do throw food down, so the chickens' behaviours are altered. Because they will come and 'stand by' in the evening and wait for the aunties and uncles to come," he said.
THE GROWTH OF A HOBBY
Apart from wild chickens, interest in keeping ornamental chickens has risen in the past few years, said Mr Tan, who also runs Clucking Good, a website where owners can purchase feed, vitamins and supplements for their pets.
Based on NParks' guidelines, no more than 10 poultry, including chickens, are allowed to be kept on any premises. Owners are also subjected to the rules of the managing body of the premises, which may or may not allow them to keep chickens within their areas. 
HDB has previously stated that keeping chickens in flats is not allowed.
"The number of people keeping (these pets) grew easily five or 10 times since I started keeping (them). So definitely, people are more aware of chickens as pets … You see celebrities keeping them as well," said Mr Tan.
Keeping pet chickens is by no means a walk in the park, said Ms Jayce Ho, who owns six Polish chickens and two Cochin chickens.
There is ample space for Ms Ho's chickens in her garden and they have a big coop to rest in when night falls.
"Chickens are natural foragers, so I really like them to roam around in the garden ... They are happy in this way, they love to forage, scratch, and peck ... This is very important and to make sure that they have very nice shelter at home to keep them away from the heat and also from the rain," she said.
"These are some very basic necessities that you need to provide for happy chickens."
An owner has to be observant when caring for pet chickens, she added.
"It's very different from keeping dogs and cats … because the main difference is that when they are sick we can easily tell a dog is feeling lethargic, or doesn't want to eat or is acting up. For chickens, they will cover their sickness or illness very nicely … because this is their normal defensive mechanism," Ms Ho said.
"A lot of people think that chickens are not very affectionate or very cuddly or very intelligent animals. But in fact, it is all proven wrong from my experience of keeping them because they are so interactive, they can be pretty intelligent and pretty smart as well.
"When I carry one of the hens and then if the other hen comes in for cuddles, she will chase her away, or she will be very grumbly and very angry and just peck her away. So I am only allowed to carry one hen at a time."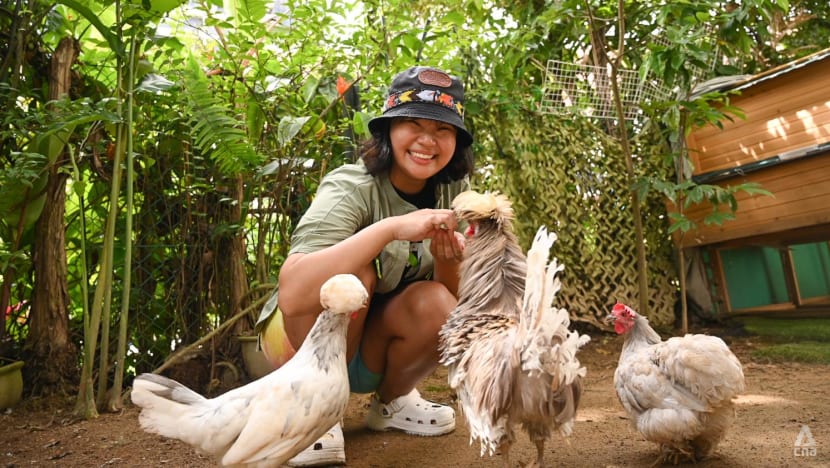 It is important for someone to do their own research before getting a chicken as a pet, she said.
"You have to know that the chicks may turn out to be hens or roosters ... (Some parents think): 'Oh, I want to educate my four-year-old, five-year-old kids about incubating eggs.'
"But after that, what happens if 30 chicks pop up? How are you going to handle and how are you going to rehome them?"
Ms Ho, who runs SGPolishChicken – a website that contains information and tips on how she cares for her chickens – gets messages on abandoned chickens at least once a week.
"It is really very heartbreaking when you hear (of) such things," she added.
There have been cases where pet chickens get abandoned by owners, said ACRES' Ms Anbarasi.
"While many owners may provide them with sufficient space and welfare, and caring for chickens may even have inspired people to adopt a plant-based lifestyle, we continue to see cruelty and welfare reports related to keeping chickens," she added.
Mr Tan said that pet chickens, such as Silkies, are vulnerable to predators.
"They don't even run much from you when you try to pick them up. You can imagine that the first time they are out in the wild and they have never seen a predator before, they won't know what to look out for ... For example, Silkies are extremely docile and have fur to block their eyesight. They can't even perceive that something might be coming towards them," he said.
LIVING IN DIFFERENT WORLDS
Following the decision to cull the chickens in 2017, Mr Chong was inspired to make New Resident, a short film about a woman providing shelter to free-roaming chickens in her HDB flat after spotting enforcement officers catching the birds.
He recalled how while shooting the film, some residents mistook him for an enforcement officer and warned him away from capturing the birds.
"They will say: 'You don't catch ah!' They are very supportive. I felt warm, and I felt touched that they were very protective of the chickens," he said.
The film was eventually screened online in 2020 and has sparked increased awareness about the birds, Mr Chong added.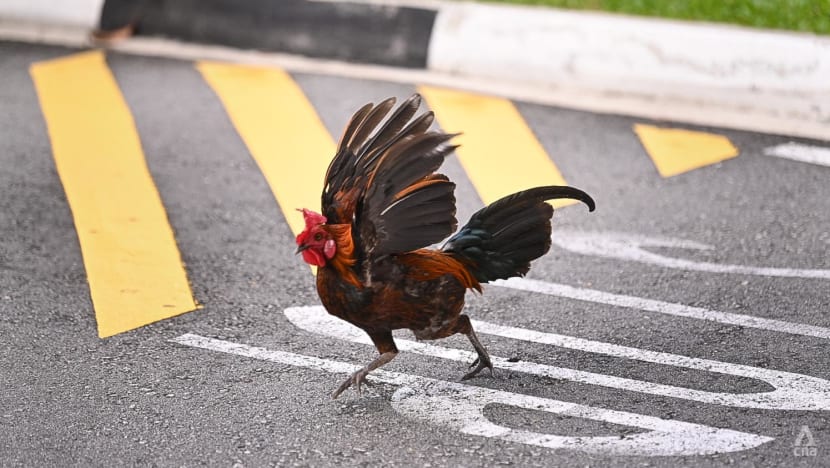 "I think (awareness) has definitely improved in a sense, where there are more conversations about it, people start to know more," he said.
"When I walk around the estate, I see kids having fun and parents just showing (them the birds), and even visitors coming to the estate ... I think it's like a tourist spot. It's a tourist attraction."
It is important to have conversations on wildlife and human interactions, he added.
"This deals with ... Singaporean culture and behaviour. If I were to extrapolate it out ... whenever we don't like something, whenever we hate something, we always like to throw it out. So out of sight, out of mind," Mr Chong said.
"Singapore is just used to well-defined rules where if you want to go see nature, you go to the park, you want to see animals, you go to the zoo …  We are not that open to these worlds being blended together."