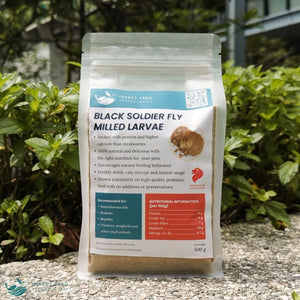 Dried Black Soldier Fly Larvae Powder! 500g
Add to feed as a topper, great to supplement protein!
Key Information:
Widely accepted by hamsters, fishes, chickens, quails and other poultry
REDUCED FAT, Higher protein %!
ADDED PROBIOTICS!

Smells freaking good. Like dried shrimps!
Raised on purely food-grade vegetable products. No animal-origin
Washed cleanly and roasted dried for better taste. Delicious.
Dry Roasting Method for better taste, nutrition preservation and no air pockets inside.
High protein content of >50% protein that's highly digestible
Higher protein and lower fat than mealworms 
Comprehensive vitamin, mineral and amino acid profile for an au natural food.
No hormones, meat, preservatives, antibiotics or other chemicals.
Sustainably farmed, reducing food waste. 
Manufactured by a Singapore startup! Insect Feed Technologies.
Fresh stock regularly, proudly made in Singapore!
Directions for use:
Mix the BSF meal powder into feed, to boost the protein content and increase acceptance of feed!