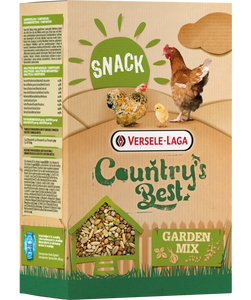 Versele-Laga Snack Garden Mix is recommended for supplementing all poultry, chicks, chickens, pheasants, duck, quail, geese, gamebird and the likes.
Founded in 1932, Versele-Laga is one of the top most established brands, with a strong reputation in bird feeds. European show breeders recommend Versele-Laga's feed and food for all poultry.
Key Information:
A tasty grain mixture with herbal pellets
Specially imported from Belgium
Treat your chickens and ornamental fowls to a delicious "Country's Best Snack Garden Mix", a varied, high quality grain mixture enriched with herbal pellets. Chickens just love it!
Moreover, the herbs such as oregano, thyme, garlic and mint support overall health, immunity and intestinal flora of your beloved animal.
Nutritious, and smells heavenly!
Composition: 
Wheat, Peeled oats, Millet, Dari, Milo, Peas, Maize, Sunflower seed, Wheat gluten feed, Wheat feed, Herbs 0.8%), Palm oil, Sunflower seed feed, Alfalfa protein concentrate, Bentonite, Calcium carbonate, Spelt bran, Sodium chloride
Analytical constituents: 
Crude protein 11.5%, Crude fat 4.5%, Crude ash 3.5%, Crude fibre 4.0%, Methionine 0.20%, Lysine 0.44%, Phosphorus 0.27%, Calcium 0.30%, Sodium 0.05%
Additives/kg:
Nutritional additives
3a672a Vitamin A 10000 IU, 3a671 Vitamin D3 2500 IU, 3a700 Vitamine E (all-rac-alpha-tocopheryl acetate) 30 mg, 3b103 Iron (Ferrous sulphate, monohydrate) 30 mg, 3b202 Iodine (Calcium iodate, anhydrous) 2.1 mg, 3b405 Copper (Cupric sulphate, pentahydrate) 10 mg, 3b502 Manganese (Manganous oxide) 75 mg, 3b603 Zinc (Zinc oxide) 70 mg, 3b802 Selenium (Sodium selenite) 0.3 mg
Technological Additives
E321 BHT 80 mg | E310 Propyl gallate 10 mg
Directions for use:
Period: For all poultry to supplement diet as treats